This article requires clean-up to meet the quality standards of the Animal Crossing Wiki.

Pocket Camp Club is a series of premium subscriptions for Pocket Camp, which unlock exclusive features that expand the game experience. The three available plans are the Happy Helper Plan, the Furniture & Fashion Plan, and the Merry Memories Plan.
If the player is subscribed to any plan, they receive special access to the Pocket Camp Club Journal, a monthly newsletter that gives sneak peeks for unreleased items and downloadable wallpapers.[1] When any plan is active, crafting times for certain items may be shortened.[2]
Happy Helper Plan
The Happy Helper Plan is a premium subscription that grants the player with the ability to choose any animal villager they meet and let them run as camp caretaker. While the game is inactive, they will automatically complete various activities for the player, such as fulfilling animal requests and periodically gathering resources, including bugs, fish, fruit, bells, and event items.[3]
On the overworld, the camp caretaker will follow the player around and applaud them when they catch bugs and fish. They can be spoken to for various pieces of commentary that will occasionally reflect the current holiday or gardening event that is active. This overworld feature can be toggled on and off.
As an added bonus, the player will receive 60 Leaf Tickets each month.[3]
This plan costs $2.99 USD per month. Optionally, a 30-day free trial of this subscription can be unlocked to temporarily try it out.
Furniture & Fashion Plan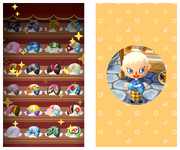 The Furniture & Fashion Plan (formerly named Cookie & Depot Plan) is a premium subscription that adds various benefits to collections of furniture and clothing. Each month, the plan allows the player to select any five Fortune Cookies, excluding certain ones such as the Sanrio Fortune Cookies.[3] They also receive more storage, having access to up to 5,000 items.[3] Additionally, they can save up to five different campsite or cabin layouts.[3]
This plan costs $7.99 USD per month.
Merry Memories Plan
With the Merry Memories Plan, players can customize the planner's cover and interior design. The player gets to choose one free planner design once subscribed to this plan. This plan gives the ability to buy new stickers. It also unlocks the ability to count daily steps, which are displayed inside the planner.
Subscribers to this plan will get additional seasonal event rewards, which can be claimed inside the planner next to the regular seasonal event rewards.
Additionally, the player gets 20 Leaf Tickets per month.
This plan costs $0.99 USD per month.
References