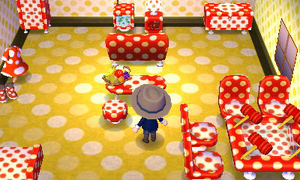 The Polka-Dot Series (みずたまシリーズ Mizutama Shirīzu?) is a series of furniture in the Animal Crossing series. It first appears in New Leaf.
The series consists of furniture colored with red and white polka dots using two styles; white polka dots on a red background or red polka dots on a white background. The matching wallpaper is primarily a pale yellow with polka dots in different shades of yellow. The matching carpet has a base color of dark yellow, with pale white and lighter yellow polka dots.
The Polka-Dot Series matches a dot-patterned item of clothing and a pair of shoes.
Villagers with parts of this set include Apple, who has the table and sofa,  Rosie, who has the bed, sofa, and lamp, and Bangle has the table and dresser.
Furniture Items
| Item Name | Buy Price | Sell Price | Available From | Color | Genres | Size (sq) | Info | Display Items |
| --- | --- | --- | --- | --- | --- | --- | --- | --- |
| Polka-Dot Bed | 2,400 | | Nookling stores | | Trendy | 2 | Bed | No |
| Polka-Dot Chair | 2,400 | | Nookling stores | | Trendy | 1 | Chair | No |
| Polka-Dot Clock | 2,400 | | Nookling stores | | Trendy | 1 | Clock | No |
| Polka-Dot Closet | 2,400 | | Nookling stores | | Trendy | 1 | Storage | No |
| Polka-Dot Dresser | 2,400 | | Nookling stores | | Trendy | 2 | Storage | 2 |
| Polka-Dot Lamp | 2,400 | | Nookling stores | | Trendy | 1 | Lamp | No |
| Polka-Dot Low Table | 2,400 | | Nookling stores | | Trendy | 2 | Table | 2 |
| Polka-Dot Sofa | 2,400 | | Nookling stores | | Trendy | 2 | Chair | No |
| Polka-Dot Stool | 2,400 | | Nookling stores | | Trendy | 1 | Chair | No |
| Polka-Dot Table | 2,400 | | Nookling stores | | Trendy | 4 | Table | 4 |
| Polka-Dot TV | 2,400 | | Nookling stores | | Trendy | 1 | TV | No |
Matching Wall and Floor
| Item Name | Buy Price | Sell Price | Available From |
| --- | --- | --- | --- |
| Dotted Wall | 1,840 | | Nooklings |
| Dotted Rug | 1,600 | | Nooklings |
Gallery
Happy Home Designer