This article is about the building. For the post office in the Town Hall, see Town Hall.

Post office


Service
Post office
Provides
Mailing, letter storage, Automatic Bell Dispenser, loan payment
Hours
All day
Appearances
AF, AF+, AC, AFe+, NL
Regional names
Postamt
우체국
The post office is a building in the Animal Crossing series where players can mail letters to other players, or to animals living in the town.
Phyllis and Pelly, who are two Pelican sisters, work inside the building. During the day, Pelly will be behind the counter happily assisting the player. During the evening, Phyllis will be working behind the counter, and will appear rude towards the player. Pete also works for the Post Office, and can be found around the town delivering the mail.
In Wild World, the Post Office was moved into the Town Hall, which also worked as the Wishing Well and dump. It returned to Main Street in New Leaf.
Role
In Animal Forest & Animal Crossing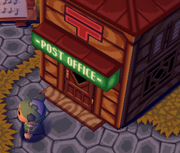 In
Animal Crossing
, the Post Office was located in one of the A
acres
(except the
Train Station
in acre A3) where players pay off their house, and can store money in a bank account there. Right outside the building, there is a Billboard where the town tune is displayed. Unlike later games, the billboard that the player can post messages up on is by the players' house instead.
In New Leaf
In New Leaf, the Post Office returns, after being absent in both Wild World and City Folk. This time it is located on the left of Happy Home Showcase on Main Street. It takes on the same responsibilities as in Animal Forest and Animal Crossing , by allowing the player to send letters to villagers and other players in the town. The player can also make mortgage repayments at the Post Office, as well as access their bank account by using the ABD.
The player can send letters to other players over SpotPass, where they can receive them on their own Nintendo 3DS. However, note that to send a letter to another player, the player must currently be visiting the recipient's town and send the letter through their own post office. There are also monthly items that are distributed through SpotPass that can be received by going into the Post Office and talking to Pelly or Phyllis (depending on the time of day) for a present or "Ask about a present".
Trivia
In New Leaf, it can be seen that the windows on the post office are mostly covered up by Nook's Homes. However, indoors, there is no windows.
Gallery
Community content is available under
CC-BY-SA
unless otherwise noted.