This article requires clean-up to meet the quality standards of the Animal Crossing Wiki.
Please edit this page to improve it. Feel free to discuss this cleanup on the article's talk page.
RVs
キャンピングカー Kyanpingu Kā
Service
Accommodation
Provides
Villagers, special characters, furniture, clothing
Hours
All day
Appearances
NL, PC
Regional names
Autocaravanas
Camping-cars
Wohnmobil
Camper
캠핑카
RVs (キャンピングカー, Kyanpingu Kā?, Camping Car) are a new feature and vehicles introduced to New Leaf in the Welcome amiibo update. An RV is a caravan used by characters visiting Harvey's campground. Villagers and some special characters will arrive in RVs when summoned with amiibo cards/figures, thanks to Wisp. Other special characters, such as Pascal and Blanca, may appear on their own without any amiibo use.
Villagers in RVs can be convinced by players to move to the town itself, if spaces are available. Players may also order any furniture contained in an RV, by spending MEOW Coupons. Each item in the player's native town is 3 MEOW Coupons. However, travelling to other towns will mean that each item is 5 MEOW Coupons
There are often clues to which special character is within the caravan on the outside of the caravan - for example a red caravan with green Christmas trees and snow for Jingle.
In Pocket Camp they are also known as "campers," and are used for accommodation or to transport the player around the map. They can be modified at OK Motors and can be customized for the first time by placing furniture, wallpaper, flooring, and items. The exterior can also be customized at OK Motors.
Amiibo Packs
As of November 2016, two RV amiibo card packs have been announced. These include the Welcome Amiibo pack (announced for Japan, America/Canada, and Europe) and the Sanrio x Animal Crossing pack (so far only released in Japan and Europe).
Welcome amiibo Pack
Sanrio x Animal Crossing Pack
In Pocket Camp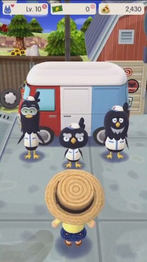 RVs are known as campers. The camper's interior can be decorated by the player with furniture, wallpaper, and flooring, and floor extensions can be added. Campers can be used for accommodation or as transport between locations in the game. The exterior can be modified at OK Motors, where the player can choose between different patterns and colours.
The interior space can be expanded as well. Following tradition, upgrades are purchased through loans, and players must pay off the previous expansion to make the next one available for installation.
| Expansion | Cost | Size |
| --- | --- | --- |
| Initial Camper | 0 Bells | 4x4 |
| Ground Floor Expansion | 10,000 Bells | 4x6 |
| Second Floor | 30,000 Bells | 4x4 |
| Second Floor Expansion | 50,000 Bells | 4x6 |
| 2nd Ground Floor Expansion | 100,000 Bells | 5x6 |
| 3rd Ground Floor Expansion | 150,000 Bells | 5x8 |
| 2nd Second Floor Expansion | 200,000 Bells | 5x6 |
| 3rd Second Floor Expansion | 250,000 Bells | 5x8 |
Gallery