"I caught a Raja Brooke butterfly! It's worth about as much as royalty!" —Animal Crossing: New Leaf
The Raja Brooke butterfly (アカエリアゲハ, Akaeriageha?) is a rare bug that was introduced in City Folk. and is found near purple flowers. However, it is not the only bug to have this trait, the peacock butterfly also has this trait.
Donation to the museum
In City Folk
Upon donating to the museum, Blathers the curator will say;
"...I must say, I'm quite impressed with your ability to catch such an impressive butterfly... The Raja Brooke butterfly, I must tell you, is one of the larger tiger butterflies. Naturally, its antennae and proboscis also rank as some of the largest around. Be not proud, vile beast! Your cute red collar and fancy name do not fool Blathers!"
It can be found in the bottom-left enclosure in the bug exhibit, flying around the pond.
In New Leaf
In New Leaf an information board in the bug exhibit will list information about this bug.
"Raja Brooke butterflies have red heads and a red strip around their necks, giving the look of a collar. They are known to drink hot-spring water and often hang around water flowing up from the ground. While males are vibrantly green, females are much more commonly seen with brown wings."
Unlock with Happy Home Handbook Lesson
In Happy Home Designer
After Day 9 in game, go to the saving place and sit down at your desk. Pick the "Study the handbook" option, you can complete "World Insects" lesson with 2 play coins. It adds 72 insects to your collection.
Capture quotes
"I caught a Raja Brooke butterfly! What a cute red collar!" —Animal Crossing: City Folk
Encyclopedia information
City Folk
Bug

Encyclopedia Information

"Flashing black wings with bright green markings make it easy to identify."

Size
About 140mm
Time
Unknown
Season
Summer
New Leaf
Bug

Encyclopedia Information

"I caught a Raja Brooke butterfly! It's worth about as much as royalty!"

Size
188 mm
Time
Morning-Evening
Season
Summer
Gallery
Further information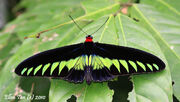 Main article: Trogonoptera brookiana on Wikipedia
The Raja Brooke butterfly (also spelled Rajah Brooke butterfly) is a species of birdwing butterfly that is found in the rainforests of much of western Indonesia. The Rajah Brooke has distinctive black and electric-green markings, which are more prominent in the males, while the females have white markings. Both have a crimson head and collar. It was named after Raja James Brooke of Sarawak. It is a large butterfly that can grow to 15cm in wingspan. It is also the national butterfly of Malaysia.
Community content is available under
CC-BY-SA
unless otherwise noted.