Fire Emblem Warriors: Three Hopes - The Loop
Play Sound
"I caught a ranchu goldfish! But I prefer balsamicu goldfish!" —New Horizons
The ranchu goldfish is a new fish introduced in New Horizons. It is found all year in the holding pond.
Donation to the museum
In New Horizons
Upon donation or selecting "Tell me more about this!", Blathers the curator will say:
"The ranchu goldfish is a charming relative of the goldfish with a bumpy head and stout, round body. They have ordinary heads when born, but develop impressive rectangular heads after about three years. Supposedly their head shape changes depending on factors like the size of their tank... So ranchu goldfish enthusiasts aim to raise perfectly shaped specimens and work hard to achieve this. Of course, no one asks the ranchu goldfish themselves what shape they want their heads to be..."
Capture quote
"I caught a ranchu goldfish! But I prefer balsamicu goldfish!" —New Horizons
Encyclopedia Information
New Horizons
Fish

Encyclopedia Information

"I caught a ranchu goldfish! But I prefer balsamicu goldfish!"

Habitat
Pond
Months active (north)
All year
Months active (south)
All year
Further information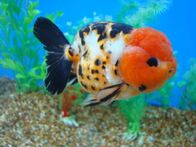 Main article: Ranchu on Wikipedia
The Ranchu goldfish is a highly regarded fancy goldfish in Japan. These fish developed abnormal tissue growth on their heads as they mature, which breeders refer to as a 'hood'. This can be several millimeters deep over much of the head such that it protrudes around the eyes, mouth and gills. Ranchus can reach between 6 and 8 inches (15 to 20 centimeters) in length and may come in orange, red, white, red-and-white, blue, black, black-and-white, black-and-red, natural, and chocolate coloration.
In other languages
Ranchu goldfish
| Language | Name |
| --- | --- |
| Japanese | ランチュウ Ranchū |
| French | Ranchu |
| Spanish | Ranchú |
| German | Ranchu |
| Italian | Ranchu |
| Dutch | Buffelrug |
| Russian | Ранчу Ranchu |
| Chinese | 兰寿金鱼/蘭壽金魚 Lánshòujīnyú |
| Korean | 난주 Nanju |