GTA: The Criminal Enterprises - The Loop
Play Sound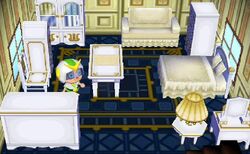 The Regal series (ロイヤルシリーズ Roiyaru Shirīzu?, Royal series) in the Animal Crossing series consists of over ten items of furniture, with a matching wallpaper and flooring. The appearance of this set is mostly creamy white with opulent, gold designs around them. The sofa and bed have frills draping from the bottom, and the rest of the series appears to be made of expensive, ivory wood and gold patterns, due to the high prices.
The Regal Wall has a chalky blue border that encases the forest green pattern in between. The Regal Carpet is patterned in squares and diamonds of dark and turquoise blues and has several gold enhancements around the center.
Many villagers, typically snooty, have this type of furniture in their house, such as Portia, Kitty, Friga, Annalise, Claudia, Eloise, Diana, Monique, Gigi, Yuka, Pecan, and Olivia. Other villagers who own pieces of this series include Cesar, Celia, Bunnie, Gabi, Flurry, Colton, Julian, Midge, Rhonda, Lionel, Chevre, and Pierce. When villagers want Regal furniture, they will refer to it as "White Furniture", as there is no actual set of white furniture.
In New Leaf, the Regal Wall Lamp has been added to the series.
Furniture Items
Animal Crossing
| Item Name | Buy Price | Sell Price | Available From | Group | Color | Size (sq) | Info |
| --- | --- | --- | --- | --- | --- | --- | --- |
| Regal Bed | 12,480 (3,120) | 780 | Crazy Redd's | - | - | 4 | Bed |
| Regal Dresser | 3,520 | 880 | Tom Nook's Store | C | - | 1 | Storage |
| Regal Armoire | 3,820 | 980 | Tom Nook's Store | B | - | 1 | Storage |
| Regal Chair | 8,400 (2,100) | 525 | Crazy Redd's | - | - | 1 | Chair |
| Regal Sofa | 3,100 | 775 | Tom Nook's Store | A | - | 2 | Chair |
| Regal Table | 2,450 | 635 | Tom Nook's Store | A | - | 2 | Table |
| Regal Lamp | 2,400 | 600 | Tom Nook's Store | A | Yellow | 1 | Light |
| Regal Bookcase | 3,120 | 780 | Tom Nook's Store | C | - | 2 | - |
| Regal Vanity | 3,200 | 800 | Tom Nook's Store | B | - | 1 | - |
| Regal Cupboard | 3,360 | 840 | Lottery | - | - | 1 | - |
Wild World
| Item Name | Buy Price | Sell Price | Available From | Group | Color | Genres | Size (sq) | Info |
| --- | --- | --- | --- | --- | --- | --- | --- | --- |
| Regal Bed | 6,420 (3,120) | 780 | Crazy Redd's | - | White (x2) | Old School/Chic | 4 | Bed |
| Regal Dresser | 3,520 | 880 | Tom Nook's Store | C | White (x2) | Old School/Chic | 2 | Storage |
| Regal Armoire | 3,820 | 955 | Tom Nook's Store | B | White (x2) | Old School/Chic | 1 | Storage |
| Regal Chair | 4,200 (2,100) | 525 | Crazy Redd's | B | White (x2) | Old School/Chic | 1 | Chair |
| Regal Sofa | 3,100 | 775 | Tom Nook's Store | A | White (x2) | Old School/Chic | 2 | Chair |
| Regal Table | 2,540 | 635 | Tom Nook's Store | A | White (x2) | Old School/Chic | 2 | Table |
| Regal Lamp | 2,400 | 600 | Tom Nook's Store | A | White/Yellow | Old School/Chic | 1 | Light |
| Regal Clock | 3,360 | 840 | | - | White (x2) | Old School/Chic | 1 | - |
| Regal Bookcase | 3,120 | 780 | Tom Nook's Store | C | White (x2) | Old School/Chic | 2 | - |
| Regal Vanity | 3,200 | 800 | Tom Nook's Store | B | White (x2) | Old School/Chic | 1 | - |
City Folk
| Item Name | Buy Price | Sell Price | Available From | Color | Genres | Size (sq) | Info |
| --- | --- | --- | --- | --- | --- | --- | --- |
| Regal Bed | 6,240  (3,120) | 780 | Crazy Redd's | White (x2) | Retro/Dignified | 4 | Bed |
| Regal Dresser | 3,520 | 880 | Tom Nook's Store | White (x2) | Retro/Dignified | 2 | Storage |
| Regal Armoire | 3,820 | 955 | Tom Nook's Store | White (x2) | Retro/Dignified | 1 | Storage |
| Regal Chair | 4,200 (2,100) | 525 | Crazy Redd's | White (x2) | Retro/Dignified | 1 | Chair |
| Regal Sofa | 3,100 | 775 | Tom Nook's Store | White (x2) | Retro/Dignified | 2 | Chair |
| Regal Table | 2,540 | 635 | Tom Nook's Store | White (x2) | Retro/Dignified | 2 | Table |
| Regal Lamp | 2,400 | 600 | Tom Nook's Store | White/Yellow | Retro/Dignified | 1 | Light |
| Regal Bookcase | 3,120 | 780 | Tom Nook's Store | White (x2) | Retro/Dignified | 2 | - |
| Regal Vanity | 3,200 | 800 | Tom Nook's Store | White (x2) | Retro/Dignified | 1 | - |
| Regal Clock | 2,400 | 600 | Tom Nook's Store (Spotlight Item) | White (x2) | Retro/Dignified | 1 | - |
New Leaf
| Item Name | Buy Price | Sell Price | Available From | Color(s) | HHA Theme(s) | Vibe | Size (sq) | Info | Display Item |
| --- | --- | --- | --- | --- | --- | --- | --- | --- | --- |
| Regal Armoire | 3,820 | 955 | Nooklings | White/Yellow | Antique, Fairy Tale | Ornate | 1 | Storage | No |
| Regal Bed | 3,120 | 780 | Nooklings | White/Yellow | Antique, Fairy Tale | Ornate | 4 | Bed | No |
| Regal Bookcase | 3,120 | 780 | Nooklings | White/Yellow | Antique, Fairy Tale | Ornate | 2 | - | No |
| Regal Chair | 2,100 | 525 | Nooklings | White/Yellow | Antique, Fairy Tale | Ornate | 1 | Chair | No |
| Regal Clock | 3,360 | 840 | Nooklings | White/Yellow | Antique, Fairy Tale | Ornate | 1 | - | No |
| Regal Dresser | 3,520 | 880 | Nooklings | White/Yellow | Antique, Fairy Tale | Ornate | 2 | Storage | 2 |
| Regal Lamp | 2,400 | 600 | Nooklings | White/Yellow | Antique, Fairy Tale | Ornate | 1 | Light | No |
| Regal Sofa | 3,100 | 775 | Nooklings | White/Yellow | Antique, Fairy Tale | Ornate | 2 | Chair | No |
| Regal Table | 2,540 | 635 | Nooklings | White/Yellow | Antique, Fairy Tale | Ornate | 2 | Table | 2 |
| Regal Vanity | 3,200 | 800 | Nooklings | White/Yellow | Antique, Fairy Tale | Ornate | 1 | - | No |
| Regal Wall Lamp | 3,600 | 900 | Nooklings | White/Yellow | Antique, Fairy Tale | Ornate | 1 | Wall, Lamp | No |
Matching Wall and Floor
| Item Name | Buy Price | Sell Price | Available From | HHA Theme(s) | Vibe |
| --- | --- | --- | --- | --- | --- |
| Regal Wall | 2,240 | 560 | Nooklings, Sahara | Antique, Fairy Tale | Ornate |
| Regal Carpet | 2,850 | 712 | Nooklings, Sahara | Antique, Fairy Tale | Ornate |
Gallery
Happy Home Designer
In other languages
Regal series
| Language | Name |
| --- | --- |
| Japanese | ロイヤルシリーズ Roiyaru Shirīzu, Royal Series |
| German | Royale Serie, Royal series |
| Italian | Serie Chic, Chic Series |
| Korean | 러셔리 시리즈 Reoksyeori sirijeu, Luxury series |
Furniture
| class="roundy" style="border: 2px solid #B42308 | class="roundy" style="border: 2px solid #d47b33 | | class="roundy" style="border: 2px solid #63AF00 | | | | |
| --- | --- | --- | --- | --- | --- | --- | --- |