"I caught a rice grasshopper! Now I just need a soy sauce mantis!" —New Leaf
The rice grasshopper (イナゴ, Inago?) is a bug that appears in New Leaf. Like many locusts and the grasshopper, the rice grasshopper has the tendency to jump into water to escape from the player.
Donation to the museum
In New Leaf
Upon donation to the Museum, the information board in the bug exhibit says:
"Rice grasshoppers are typically known as pests that eat farmers' crop, making them undesirable. But they're also edible, and boiling them in soy sauce is a typical way to prepare them in certain regions. While they are generally green, their shells will turn a darker color when heavily crowded in groups."
Encyclopedia information
New Leaf
Bug

Encyclopedia Information

"I caught a rice grasshopper! Now I just need a soy sauce mantis!"

Size
25mm
Time
Morning-Evening
Season
Fall
Gallery
Further information
Oxya japonica (known as the hanenaga inago in Japan) can be found in Japan, Southeast Asia, China, and as far west as India and Sri Lanka. It can sometimes be found in Australia. It causes extensive crop damage in Southeast Asia.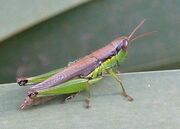 In other languages
Rice grasshopper
| Language | Name |
| --- | --- |
| Japanese | イナゴ Inago |
| French | Criquet |
| Spanish | Langosta |
| German | Heuschrecke |
| Italian | Locusta |
| Dutch | Murene |
| Chinese | 稻蝗 Dàohuáng |
| Korean | 메뚜기 Mettugi |
Community content is available under
CC-BY-SA
unless otherwise noted.