No Man's Sky Update - The Loop
Play Sound
The Rosalia batesi beetle (ルリボシカミキリ, Ruriboshikamikiri) is a bug that first appeared in New Horizons.
Capture quotes
"I caught a rosalia batesi beetle! That's easier to do than say!" —New Horizons
Donation to the museum
In New Horizons
When either donating to the museum or selecting "Tell me more about this!", Blathers the curator will say (with abhorrence):
"The rosalia batesi beetle is a type of longhorn beetle, so named for the long antenna upon its head. But did you know that longhorn beetles often grow antenna LONGER than their very own bodies, wot wot? As if this weren't odious enough, look closely and you will find these antenna...are covered in tufts of hair! Best not look closely, I say."
Encyclopedia information
New Horizons
Bug

Encyclopedia Information

"I caught a rosalia batesi beetle! That's easier to do than say!"

Current Active Hours
All day
Months active (north)
May - September
Months active (south)
November - March
Further information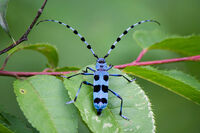 Rosalia is a genus of longhorn beetles which bore into hardwood. While they are considered pests in commercially grown plantations and in wooden buildings, they are also admired for their beautiful blue and black bodies. The species featured in game, Rosalia batesi is endemic to Japan.
In other languages
Rosalia batesi beetle
| Language | Name |
| --- | --- |
| Japanese | ルリボシカミキリ Ruriboshi kamikiri |
| French | Rosalia batesi |
| Spanish | Escarabajo rosalia batesi |
| German | Alpenbock |
| Italian | Coleottero rosalia batesi |
| Dutch | Alpenboktor |
| Russian | Розалия Rozaliya |
| Chinese | 琉璃星天牛 Liúlíxīngtiānniú |
| Korean | 루리하늘소 Rurihaneulso |
Bugs
| class="roundy" style="border: 2px solid #B42308 | class="roundy" style="border: 2px solid #d47b33 | | class="roundy" style="border: 2px solid #63AF00 | | | | | |
| --- | --- | --- | --- | --- | --- | --- | --- | --- |