Fire Emblem Warriors: Three Hopes - The Loop
Play Sound
This article is about the peppy cat villager. For the flower, see Rose.

"To the president of the Rosie Fan club!"
― Picture quote, Wild World

Rosie (ブーケ Būke?, Bouquet) is a peppy cat villager that has appeared in all games and also appeared in Geijōban Dōbutsu no Mori. She is also a widely popular Animal Crossing representative symbol, as she appears on many game covers and has merchandise depending on her appearance. Her initial catchphrase is a reference to how peppy villagers normally act. She has the music hobby.
Appearance

Rosie is an iris blue cat with dark blue fur. She has big black eyes, and light, rosy blush on her cheeks. Like most characters, Rosie was given toes and fingers. She has white tips on her paws, tail, feet, and ears. The inside of her ears transition from pink to light pink. Rosie has a smile seen on drawings of cats and a tuft of blue hair in between her ears. Her initial shirt is the Shortcake Shirt in Animal Crossing and Dazed Shirt in Wild World. On rainy days, she carries a Mint Gingham umbrella.
Personality
Below is a brief description of the peppy personality. For more information, click here.
Peppy villagers appear to be in a good mood often and are easy to become friends with. As a peppy villager, Rosie will have the tendency to over-react in conversations about trivial subjects, and will usually be over-excited to see the player or other villagers. This villager, like other peppy villagers, will rarely be discouraged from doing anything, including the usual hobbies. Peppy villagers dream of becoming famous in the future and read Ms. Nintendique, an unseen magazine read by snooty, normal, and other peppy villagers in the Animal Crossing Series. Peppy villagers will also have a very short attention span, which means they soon forget some arguments or tasks given to the player which weren't completed. Rosie may easily get upset in conversation when the wrong things are said. She will get along well with other villagers, particularly lazy, normal, jock, sisterly and other peppy villagers, but she may annoy and upset cranky and snooty villagers, whose personalities differ to hers. Due to the nature of peppy villagers, she may mention how "old" or "boring" cranky villagers are compared to her opposing, upbeat personality.
House
In Wild World and City Folk, Rosie's house does not have a specific theme. She has a Green Counter and some other items. Rosie also has a stereo that plays Rockin' K.K. She also has a blue table, red sofa, bathtub, gas pump, punching bag, and a snowboard in her house. Rosie has mod wallpaper and a cowhide rug. Her house is random, just furniture and stuff that never stays on topic, reflecting her upbeat and hyper personality. Like most peppy villagers, when she asks for furniture, she will usually ask for pink furniture.
In New Leaf, Rosie's house is very feminine. Much like Apple, she has items from the Lovely Series, and the Polka-Dot Series. She also has both items from the Pine Set, as well as a Makeup Case, and a bathtub. She has a Cassette Player that plays Bubblegum K.K..
Pocket Camp
Rosie was released with Pocket Camp on October 25, 2017, and is the first campsite visitor if the player picks cute as their theme.
Rosie's preferred theme is cute, and she primarily gives wood as a reward. Her profile reads:
❝ Rosie's something of a town celebrity. If you ever see a crowd of people in a state of frenzy, you can be sure Rosie's on the other side of it.❞
Campsite Invitation Requirements
Friendship Level: 1
| Furniture/Item | Required Materials | Price (Bells) | Craft Time |
| --- | --- | --- | --- |
| Lovely Love Seat (basic) | 6 cotton | 500 | 1 minute |
| Aloe | 6 wood | 430 | 1 minute |
| Hammock | 3 wood, 3 cotton | 420 | 1 minute |
| Worktable | 6 wood | 390 | 1 minute |
Friendship Rewards
At level 7, she will reward the player with a dazed tee and sparkle stones (x1).
At level 9, she will reward the player with sparkle stones (x1).
At level 10, she will request the player to craft a makeup case.
At level 20, she will reward the player with a picture of Rosie and sparkle stones (x1).
At level 25, she will reward the player with sparkle stones (x1).
At level 30, she will reward the player with sparkle stones (x1).
At level 35, she will reward the player with sparkle stones (x1).
At level 40, she will reward the player with sparkle stones (x1).
At level 45, she will reward the player with sparkle stones (x1).
At level 50, she will reward the player with sparkle stones (x1).
At level 55, she will reward the player with sparkle stones (x1).
At level 60, she will reward the player with sparkle stones (x1).
In Dōbutsu no Mori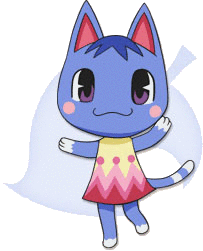 Rosie appeared in Geijōban Dōbutsu no Mori.
Ai first meets Rosie on her deliveries. While delivering her maid outfit, Rosie dances in joy much to Ai's surprise. Upon acknowledging her new neighbor, Rosie asks of her arrival, with TV drama-esque questions. After their first encounter, Rosie, Ai, and Margie (Sally), become best friends. Later at the beach, Rosie whispers a rumor to Ai that Apollo is dating Whitney (Bianca). Soon after informing Ai, Margie explains her on how spreading rumors is terrifying, making Rosie annoyed. Later, while watching Yu and Alfonso (Halberd) celebrate finding an Ammonite fossil, Rosie wonders why they are celebrating, stating she has seen more in the "special place" (a beach cave), and soon is swarmed by an ecstatic Yu. Unable to tolerate him, Rosie agrees to help him find them. This sets off a mini adventure, leading them into the depths of a waterfall cave.
Near the beginning of fall, they wake up from possible unconsciousness to reveal a mound of fossils. After Yu's careless fossil hunting, the cave collapses and Rosie and friends make it out by a hair. Later, sometime in fall, Rosie questions why Ai did not show up to Margie's farewell party, of which an unknowing Ai replies, asking "Did she go somewhere?" Shocked, Rosie reveals to her the truth, to which a depressed Ai runs away. Concerned for her friend, Rosie checks on Ai later that day, who shows her Margie's letter. After Ai and Rosie's talk, shooting stars appear at the coast, making the two amazed. Sometime in winter, Rosie decorates her house, hoping to be "this year's winner" of the winter festival. Once the UFO lands, Rosie helps her comrades find the missing UFO pieces. Yu dashes to the beach cave where the piece is located. Like all other villagers, Rosie wears a red kimono at the fireworks festival. There is a running gag in the movie about Rosie not knowing what "cherry pie" means, often asking her friends but receiving no answer.
She was voiced by Misato Fukuen.
e-Card
e-Card [1]

Letter

Back

#257 Rosie

Gender
Female
Type
Cat
Star sign
Pisces
Clothes
Shortcake shirt
Petphrase
Silly
Password
uPsufO#wbJVzfE
k5cO5aj7@nqE2q
Profile
Rosie knows that beauty is skin-deep. That's why she always helps the other villagers by running plenty of their errands. She wants to be as beautiful inside as she is outside.
amiibo Card
Regular
amiibo Card[2]

Back

#386 Rosie

| | |
| --- | --- |
| Type | Cat |
| Star sign | Pisces |
| Birthday | 2/27 |
| Roll value | 4 |
| Hand sign | Paper |
| Request | An office/studio for a star |
amiibo Festival
amiibo Card[3]

Back

#404 Rosie

| | |
| --- | --- |
| Type | Cat |
| Star sign | Pisces |
| Birthday | 2/27 |
| Roll value | 4 |
| Hand sign | Paper |
| Request | An office/studio for a star |
Trivia
In other languages
Rosie
| Language | Name |
| --- | --- |
| Japanese | ブーケ Būke |
| French | Rosie |
| Spanish | Minina |
| German | Sophie |
| Italian | Grinfia |
| Dutch | Rosie |
| Chinese | 彭花 Péng Huā |
| Korean | 부케 Buke |
References