"Hi! ...It's-a ME! Mya ha! Good impression, right?"
― Rover, Animal Crossing
"Haven't done this much traveling by train since 2002 or so... Man, that's weird."
― Rover, New Leaf
Rover
(
みしらぬネコ,
Mishiranu Neko
?
, Unknown Cat) is a special
character
in the
Animal Crossing series
. His job varies in each game, but his primary job is to set-up the
playable character
. Despite his name, which is usually connected with
dogs
, he is a cat, and is very friendly and hospitable towards the
playable character
and others. His name also originates from roaming, as he is a frequent traveler, traveling on a train in
Animal Forest
to
Animal Forest e+
, then onto a bus in
City Folk
, and then back onto the train in
New Leaf
.
Appearance
He is a blue and white cat with red irises, and wears a red sweater with diamond patterns and yellow trim. He does not appear to have a nose.
Role
In Animal Forest and Animal Crossing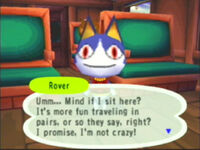 His role in Animal Forest and Animal Crossing is to set-up the game for the first time, by setting the time and date, the player and the town in which the player lives. In his first appearance, Rover meets the player on the train, approaching them to give a predicted time and date and asking if it is correct. He soon drums up a conversation by sitting opposite the player and asking questions to determine their gender and appearance, as well as asking where the player is going and setting up a house for them to stay in by talking to his friend Tom Nook. Soon after this, the train arrives at the player's town.
Wild World
Rover does not play a main part in Wild World, instead, he is replaced by Kapp'n, who drives the taxi. However, Rover does appear in The Roost, where the player can talk to him. Rover will say things about the player's town, such as how he has a soft spot for it. He will ask the player if they have traveled anywhere for a "kick," and he will comment about how he rode on the trains a lot but that he was always so lonely. He will also ask if the player has seen a suspicious-looking cat (Blanca). He sets up Tag Mode/Contact Mode, which allows anonymous Bottle Mail to be sent to the town and to the beach.
In City Folk
Rover returns to his previous role like in Animal Crossing. He meets the player on the bus driven by Kapp'n and asks questions to determine the gender and town name of the player. He also appears at the start-up of the game, asking if the time and date is correct and who is going to be playing the game out of four saved players, as well as other options. He also appears on the bus the first time the player goes into the city.
He turns on WiiConnect24, as well as other options such as sound options by calling him with the phone in the player's attic. He sometimes appears in The Roost, talking about his travels.
In New Leaf
In New Leaf, Rover plays the same role as he did in City Folk and Animal Crossing. Rover will be on the same train as the player and asks the player questions that determine their gender, the time and date, their name, and the town they are going to ("New Leaf" by default). He will also state that he "hasn't done this much traveling by train since 2002", which is a reference to the fact that he hasn't appeared on a train in-game since 2002, when Animal Crossing was released. He also is seen on the train a second time if a civilian profile in a town moves out or a mayor imports their save from a retail hard copy to a digital version. 
e-Card
e-Card

Letter

Back

#002 Rover

Gender
Male
Type
Special
Star sign
Aquarius
Clothes
N/A
Petphrase
N/A
Password
Z3qsb4KhUxVN#V
S6LhyDCL2K&8dv
Profile
Rover is what you'd call a high-class hobo. He and his cell phone ride the rails from town to town, which explains why he's so well connected. He's happiest when he's sticking his nose in other people's business.
amiibo Card
amiibo Card

Back

#201 Rover

| | |
| --- | --- |
| Type | Special |
| Star sign | Aquarius |
| Birthday | 2/1 |
| Roll value | 6 |
| Hand sign | Scissors |
| Request | I'll leave it up to you! |
Merchandise
Gallery
Community content is available under
CC-BY-SA
unless otherwise noted.