Saddled bichir
エンドリケリー Endorikerii

| | | | | | | |
| --- | --- | --- | --- | --- | --- | --- |
| AF | AF+ | AC | e+ | WW | CF | NL |
| – | – | – | – | – | – | #42 |

Location
Price
River
4,000 Bells
Size
Shadow size
27 in. (68 cm)
Large
Time of year
Time of day
June to September
9 pm to 4 am
Scientific name
Polypterus endlicheri
Family
Polypteridae
Appearances
NL
Rarity
Scarce (★★★★)
Regional names
Polipteride
Bichir
Bichir ensillado
Flösselhecht
"Wow! A saddled bichir! Now I'm saddled with guilt!" —New Leaf
The saddled bichir is a fish introduced in Animal Crossing: New Leaf. It can be found during the Summer at night from 9pm until 4am.
Donation to the museum
In New Leaf
In New Leaf, an informational board in the aquarium will list information about this fish.
"The cool-looking saddled bichir are ancient fish with spiky fins on their backs. Though they've been around for more than 400 million years, they remain relatively unchanged. They have big appetites and will wait to ambush any fish they think will fit in their mouths. They can grow up to 30 inches long, making them rather large fish indeed. They swim slowly in a way that gives them the appearance of walking like dinosaurs."
Encyclopedia information
New Leaf
Fish

Encyclopedia Information

"Wow! A saddled bichir! Now I'm saddled with guilt!"

Size
27 inches
Habitat
River
Season
June to September
Gallery
Further information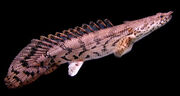 A timeless and archaic fish, the Saddled Bichir, as well as its other relatives in the family Polypteridae, has very ancient origins. All species inhabit muddy and marshy waters of tropical Africa, the most obvious example being those living in the Nile River. These fish can breathe air from outside of water, and can cross over land effortlessly with the help of their fins. They are a nocturnal fish and feed on insects, crustaceans and other fish. They can live for up to 10 years. The Japanese-language version of New Leaf refers to the saddled bichir by the second half of its scientific name, "endlicheri".
Community content is available under
CC-BY-SA
unless otherwise noted.