Saharah
ローラン Rōran

"Life is full of many journeys. Where they will lead, no one can know."
Gender
Male (Japan)
Female (other)
Species
Camel
Service
Rare flooring and wallpaper
Birthday
November 10th
Coffee
N/A
Appearances
AF, AF+, AC, AFe+, WW, CF, NL
New Horizons
Regional names
Sarah
Aziza
Alcatifa
Sahara
사하라
Saharah (ローラン, Rōran?, Roland) is a camel in the Animal Crossing series that trades in rare carpets and wallpaper to the player. She has a different service in each Animal Crossing series game. She is beige with a white stomach. She wears a blue vest and has a white pack of flooring and wallpapers on her back.
Her name is derived from the Sahara Desert in Africa. Like how Savannah is often spelled Savanna, her name is sometimes missing the final 'h' in villager conversations.
Role
In Animal Crossing
In the original Animal Crossing, Saharah makes her living selling rare and exotic carpets from faraway lands. Like most of the game's other special characters, Saharah sells items that cannot be found anywhere else. She does, however, have a different way of doing business than Tom Nook; she accepts trade-ins. In order to get the player one of her carpets the player must trade in one of their carpets along with some money.Her prices start at 3000 Bells and double with every trade up until 48,000 bells. She also retains her Male voice.
In Wild World
In Wild World, Saharah returns and this time she gives rare wallpaper and carpets. Instead of her trade-ins, she will asks the player to deliver carpet and wallpaper to special characters such as Blathers, the Able Sisters, Tom Nook, Pelly and Phyllis, similar to the way that the player works for Tom Nook earlier in the game. In return, she will allow you to choose between a carpet and a wallpaper.
She plays a part in the Golden Axe Trading Event, which involves the player trading various items to other special characters and is hopefully given a Golden Axe. When the player gets to know Saharah, she will talk about how she "longs for a turban."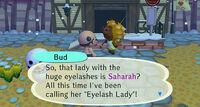 In City Folk
In City Folk, Saharah returns and once again accepts trade-ins. Though the player does not have to pay, she asks for old wallpaper or carpet, which can be obtained from other villagers around town, and only one or two will have them. If the player saves three of these old wallpapers or carpet every time she visits, she will give them a special gift. If the player tries to give her a wallpaper or carpet from their home or Tom Nook's Store, she will say that it is "still lovely!" but not accept it. Also, jock villagers refer to her as the 'lady with the burly eyelashes'.
In New Leaf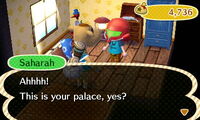 Saharah plays a similar role in New Leaf, but instead, she gives wallpapers and carpets away. The player will occasionally find her walking around town and she will offer to redecorate the player's wallpaper and carpet. If the player agrees to pay 3,000 bells, she will follow the player to their house, and redecorates the interiors with a random carpet and wallpaper combination. When she is done, she will give back the player's old wallpaper and carpet. More so than previous games, Saharah speaks in a shortened, almost fractured English, emphasizing her distance from home.
e-Card
e-Card

Letter

Back

#064 Saharah

Gender
Male
Type
Special
Star sign
Scorpio
Clothes
N/A
Petphrase
N/A
Password
O#x7W3OssHRKT#
wtXgySAimbiTh%
Profile
Saharah travels the world bartering rare carpets. Her trade-in deals are good to begin with, but she has a habit of jacking up the prices for repeat costumers. It's anybody's guess how many rugs she has in that bag.
amiibo Card
amiibo Card

Back

#012 Saharah

| | |
| --- | --- |
| Type | Special |
| Star sign | Scorpio |
| Birthday | 11/10 |
| Roll value | 4 |
| Hand sign | Scissors |
| Request | I'll leave it up to you! |
Gallery
Wild World
City Folk
New Leaf
Merchandise
Trivia
According to cranky villagers in City Folk, her accent is fake. They claim that she used to do stand-up comedy in the The Marquee and didn't have an accent.
There is an easy way to get many old carpets in one visit. First a player must get a old carpet from another player, and get more carpets from different players. Then drop the extra carpets and have the person that is the lead player to get the exotic carpet pick up the other carpets and then give them to her to get a rare carpet.
Despite being female, Saharah is referred to as male in the Prima Official Strategy Guide for Animal Crossing. This is probably due to her male voice in Animal Crossing, or the fact that she is male in the Japanese games.
Although it's hard to see why Saharah was changed from a boy to a girl in the versions outside of Japan, the reason could be her eyelashes. However, it is common for camels of either gender to have long eyelashes, as they are what protects their eyes from getting sand in them.
Saharah refers to Tom Nook as "King Nook".
Saharah and Gracie are the only characters to have a gender change when Animal Crossing was being localized.
Sarahah also shares the same birthday with Rodney (November 10th).
Community content is available under
CC-BY-SA
unless otherwise noted.