Shampoodle
ビューティーサロン Byuutii Saron


Service
Salon
Provides
Hairstyle, Mii mask (CF, NL), eye color (NL)
Hours
8:00 A.M. - 11:00 P.M. (WW),
8:00 A.M. - 9:00 P.M. (CF),
10:00 A.M. - 8:00 P.M. (NL)
Appearances
AC, WW, CF, NL
Regional names
Esthétichien
Shampudel
Chez Marilín
Shampoo e Champagne
스피디
Town ordinance hours
Early Bird
7:00 A.M. - 8:00 P.M.
Night Owl
10:00 A.M. - 11:00 P.M.
Shampoodle (ビューティーサロン, Byuutii Saron) is a business in the Animal Crossing series that allows the player to change their hair style and color. Harriet the poodle will ask the player 3 questions and depending on which answers are chosen, they will get a different hairstyle and color. Changing hairstyle also removes a bedhead.
The store takes on many appearances throughout the series. It first appears in Wild World as an add-on to Nookington's. A barber's pole appears outside the salon. However, in City Folk it has its own building in the City. It has a pastel turquoise exterior and a bright yellow door. Above the ground floor window and entrance is an orange and beige awning. The building retains the Barber's pole last seen in Wild World.
In New Leaf, the store has been relocated to above the Able Sisters store in Main Street. The exterior is bright green with green window awnings. The entrance is a blue, white and red sliding door which matches the Barber's pole above the stairway. Inside, there are two magazines on a desk that are said to be copies of Ms. Nintendique.
Role
In Wild World
Shampoodle makes its first appearance in Wild World, appearing in the back of Nookington's - the final expansion of Tom Nook's store after a friend has bought one item from Nookway and 240,000 Bells have been spent in store. It is open from 8:00 A.M. to 11:00 P.M.
Each haircut costs 3,000 Bells.
In City Folk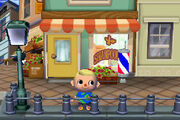 In
City Folk
, Shampoodle has been moved to the
city
into its own building. It still follows the same basic functions as in
Wild World
, except now the player is given the opportunity to buy a Mii Mask. It is open from 8:00 A.M. to 9 P.M.
Mii mask
The Mii mask is styled on a Mii from the Mii Channel on the Nintendo Wii console the game is being played on. The mask is free the first time and then 3,000 Bells afterwards, but only one design can be held at any given time.
In New Leaf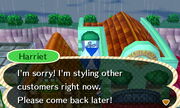 Shampoodle returns in New Leaf along with Harriet. The store takes on a new appearance, this time it is located above the Able Sisters store in Main Street.
It must first be unlocked by spending at least 10,000 Bells between the Able Sisters store or Kicks. Kicks must also have been open for at least seven days before construction begins. Afterwards, it takes four days for Shampoodle to be built.
The player can only have one re-style a day. Each makeover, haircut, or contact color costs 3,000 Bells each. If the player's hair style and hair color don't change, Harriet will not charge them.
In Happy Home Designer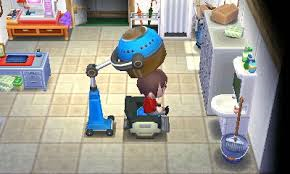 The store does not make an appearance in this game. However, unlike in the previous games, the player can choose their face and hairstyle at the beginning of the game. The hair-styling machine from Shampoodle makes an appearance in the top floor of Nook's Homes, and cannot be accessed until it is bought from the Happy Home Handbook for 5 play coins.
Eye color
Originally, Shampoodle's makeover machine is a cream color, which offers one hairstyle or Mii mask transformation per day, each for 3,000 Bells. This is until the store has been open for at least 14 days and the player has changed their hairstyle or had a Mii mask at least once. The next time the player visits the store, the cream machine will be slightly larger and dark pink as the option to change the color of the player's eyes is unlocked.
Similar to the hairstyle choosing questions, Harriet will ask the player different questions to determine their color. The default color varies, and the player can change this to blue, sky blue, blue gray, green, brown and black.
See also