Shinabiru (シナビル, Shinabiru?) is a jock duck villager from the Animal Crossing series. His only appearance was in the Japanese exclusive Animal Forest e+. Shinabiru was designed by Japanese manga artist Takayuki Mizushina.
Appearance
Shinabiru is a yellow duck that initially wears an MVP shirt. His eyes are wide open, and his feet are orange. Shinabiru's arms are also blue, and his eyebrows are brown as well as the hair on top of his head.
Personality
Below is a brief description of the jock personality. For more information, click here.
Shinabiru has a jock personality and has a great interest in sports and bodybuilding. Jock villagers are hyperactive and motivated but often come across as egotistical and dense. As a jock villager, Shinabiru is very interested in his
hobby
, and may compete against the player at catching
bugs
and
fish
. Jock villagers get along with
peppy
,
cranky
and
sisterly
villagers, but conflict with the laid-back lifestyle of
lazy
villagers.
Snooty
villagers may also be difficult to get along with for Shinabiru.
House
Shinabiru's house is the same as Hambo's, with the difference being the music room flooring and wood paneling wallpaper. He also has K.K. Reggae playing on his tape deck.
Gallery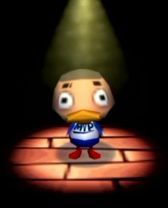 This villager article is a stub. You can help the Animal Crossing Wiki by expanding it
.
Community content is available under
CC-BY-SA
unless otherwise noted.