Spike
スクワット Sukuwatto

"Keep your eye on the ball."
Birthday
June 17th (Gemini)
Initial phrase
punk
Initial clothes
Skull Shirt
Skill
Climbing trees
Goal
Actor
Coffee
Kilimanjaro,
The regular amount of milk,
2 spoonfuls of sugar
Appearances
AF, AF+, AC, AFe+, NL
Regional names
Rhino
Cornio
Bruto
Spike (スクワット, Sukuwatto?, Squat) is a cranky rhino villager in the Animal Crossing series. His initial phrase may be a reference to his intimidating species. He first appeared only in the early games of the series, but has since found in the data for Happy Home Designer. His birthday is the same as Tangy's.
Spike returned to the series in New Leaf, as part of the Welcome Amiibo update. By scanning amiibo cards this villager can be met via the campground and invited to the town.
Appearance
Spike is an orange rhino with angry-appearing eyes, and a scarred muzzle on each side with two yellow horns on top. The same yellow coloring of his horns is also at the tips of his ears, as well as around his wrists and ankles. Around each of his two horns is a steel blue colored ring, which also appears at the tip of tail, and at the end of all four of his limbs. His dark brown hair is coarse and styled like a mohawk. He is modeled after the "punk" and "skater" / skate-boarding culture, of which his catchphrase "punk" comes from. His name, Spike, is perhaps inspired by the spikes that frequently adorned late 20th-Century punk and skater fashion accessories. In all his appearances, Spike has worn the Skull shirt.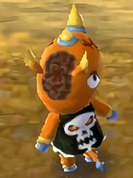 Personality
Below is a brief description of the cranky personality. For more information, click here.
Cranky villagers will usually appear in a grouchy or agitated mood and are more difficult to befriend than other villager types. When talking to the
player
, cranky villagers tend to become angry if the player disagrees with them or refuses to do a favor. Like all cranky villagers, Spike will be invested in his
hobby
and will often challenge the player to various competitions. He will easily get along with
jock
,
snooty
and other
cranky
villagers, and occasionally
lazy
and normal villagers as well. However, he will find it hard to socialize with
peppy
villagers, as they will seem overstimulated or immature. Spike will also enjoy spreading rumors of other villagers.
House
In earlier Animal Crossing titles, Spike's house consists of the Construction Theme. If he has a stereo it will play Surfin' K.K.
In
New Leaf
, Spike's home has items consistent with "extreme sports" such as a Skateboard Rack and a Mountain Bike. He also owns a Hanger Rack customized with male clothing apparel, a Desktop TV sitting atop a Square Minitable, a Brown Seat, Shower Stall, Succulent Plant, Modern Bed, Pitcher Plant, and a Jukebox that plays
K.K. House
.
e-Card
e-Card

Letter

Back

#059 Spike

Gender
Male
Type
Rhino
Star sign
Cancer
Clothes
Skull shirt
Petphrase
Punk
Password
b8WF#tY3lziJIG
UzoCoOYbrg%Hl7
Profile
Spike is the scariest looking dude around. His mean scowl, huge scar, and sharp tongue scare off even the toughest streetwise city kid, but he's actually as cuddly as a teddy bear once you get to know him.
amiibo Card
Welcome amiibo Card

Back

#38 Spike

Furniture
Brown seat
Desktop TV
Hanger rack
Simple panel
Skateboard rack
Succulent plant

Wallpaper and Flooring
Concrete wall
Terrace rug