Stinkbug
カメムシ Kamemushi

| | | | | | | |
| --- | --- | --- | --- | --- | --- | --- |
| AF | AF+ | AC | e+ | WW | CF | NL |
| – | – | – | – | – | – | #33 |

Location
Price
On trees
120 Bells
Size
Available in rain
15mm
Yes
Time of year
Time of day
April to October
All Day
Scientific name
Pentatoma japonica
Family
Pentatomidae
Appearances
NL
Rarity
Uncommon (★★★)
Regional names
Punaise
Stinkwanze
Cimice
Chinche
"I caught a stinkbug! Yup, yup, that stinks all right!" —New Leaf
The stinkbug (カメムシ, Kanemushi?) is a new bug found in New Leaf. It is found on trees from April until October.
Donation to the museum
In New Leaf
In New Leaf an information board in the bug exhibit will list information about this bug.
"Stinkbugs are known for their foul smell, enough to drive away most predators and people. The smell is so strong that if they release it in an airtight place, they pass out from their own smell. They like to gather in clumps to stay warm in sunshine, though they will seek out warm houses as well."
Encyclopedia Information
New Leaf
Bug

Encyclopedia Information

"I caught a stinkbug! Yup, yup, that stinks alright!"

Size
15.5 mm
Time
All Day
Season
Spring-Fall
Gallery
Further Information
The green stink bug or green soldier bug is a stink bug belonging to the family Pentatomidae.t is found in orchards, gardens, woodlands and crop fields throughout North America, feeding with their needle-like mouthparts on the juices of a wide variety of plants from May until the arrival of frost. Adults develop a preference for developing seeds and thus become crop pests (tomato, bean, pea, cotton, corn, soybean, eggplant). When no seeds are present, they also feed on stems and foliage, thus damaging several fruit trees, such as the apple, cherry, orange and peach trees. Moreover, it can be found in Queensland and New South Wales, Australia. here is a real life stinkbug.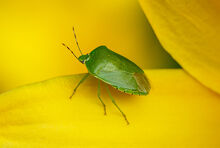 Community content is available under
CC-BY-SA
unless otherwise noted.