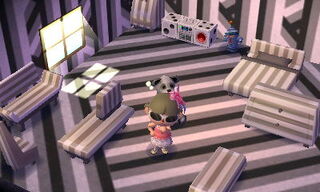 The Stripe Series (ストライプシリーズ Sutoraipu Shirīzu?) is a series of furniture in the Animal Crossing series that first appears in New Leaf.
The series consists of eleven items with simple, slim, and rounded furniture with a blue-and-white stripe design. The secondary color on some of the items (light, bed, TV) is a golden yellow. In contrast, the wallpaper and flooring feature black, white, and gray stripes rotated to form abstract patterns.
The Stripe Series can be taken to Cyrus and remade into a variety of colors, including pink, green, orange, gray and more. The blue stripes will change into the newly selected color, leaving the white stripes a permanent part of the series.
Henry owns various items from this series. Hamlet has the bed, closet, and table.
Furniture Items
| Item Name | Buy Price | Sell Price | Available From | Color | HHA Theme(s) | Vibe | Size (sq) | Info | Display Items |
| --- | --- | --- | --- | --- | --- | --- | --- | --- | --- |
| Stripe Bed | 2020 | 505 | Nooklings | Light Blue/White | Trendy | Modern | 4 | Bed | No |
| Stripe Clock | 2020 | 505 | Nooklings (Super T&T+) | Light Blue/White | Trendy | Modern | 2 | Clock | No |
| Stripe Chair | 2020 | 505 | Nooklings | Light Blue/White | Trendy | Modern | 1 | Chair | No |
| Stripe Closet | 2020 | 505 | Nooklings | Light Blue/White | Trendy | Modern | 1 | Storage | No |
| Stripe Dresser | 2020 | 505 | Nooklings | Light Blue/White | Trendy | Modern | 2 | Storage | 2 |
| Stripe Lamp | 2020 | 505 | Nooklings | Light Blue/White | Trendy | Modern | 1 | Lamp | No |
| Stripe Shelf | 2020 | 505 | Nooklings | Light Blue/White | Trendy | Modern | 2 | Table | 2 |
| Stripe Sink | 2020 | 505 | Nooklings | Light Blue/White | Trendy | Modern | 1 | - | No |
| Stripe Sofa | 2020 | 505 | Nooklings | Light Blue/White | Trendy | Modern | 2 | Chair | No |
| Stripe Table | 2020 | 505 | Nooklings | Light Blue/White | Trendy | Modern | 2 | Table | 2 |
| Stripe TV | 2020 | 505 | Nooklings | Light Blue/White | Trendy | Modern | 1 | TV | No |
Matching Wall and Floor
| Item Name | Buy Price | Sell Price | HHA Theme(s) | Vibe | Available From |
| --- | --- | --- | --- | --- | --- |
| Stripe Wall | 1480 | 370 | Trendy | Modern | Nooklings |
| Stripe Carpet | 1480 | 370 | Trendy | Modern | Nooklings |
Gallery
Happy Home Designer