This article is about the snooty rabbit villager. For the normal eagle villager, see Celia.
Tiffany
バズレー Bazurē

"What's cheap is most costly."
Birthday
January 9th (Capricorn)
Initial phrase
bun bun
ってさ (ttesa)
Initial clothes
Spiderweb Tee
Home request
A gorgeous celebrity home
Skill
Oversleeping
Goal
CEO
Coffee
Kilimanjaro,
A little bit of milk,
One spoonful of sugar
Style
Rock 'n' roll
Favorite song
K.K. Rock
Appearances
AF, AF+, AC, AFe+, WW, CF, NL, HHD
Regional names
Tiphaine
Michele
Tiffany
Stefania
바슬레 vaseulre
"What's up, bun bun?"
― Picture quote, Wild World
Tiffany (バズレー, Bazurē?) is a snooty rabbit villager. She first appeared in Animal Forest e+ later appearing back in Wild World and continuing the games. She bears a strong resemblance to Audrey Hepburn who is known for her role in Breakfast at Tiffany's. Her initial phrase, bun bun, is a play on the words "bunny" and "bon bon".
Appearance
Tiffany is a white rabbit with light brown tips at the top of her ears, the insides of which are a rose color. She has a tuft of brown hair between her ears. Her eyebrows are small with a sharp, downward slant. Her eyebrows, combined with her large, hooded eyes, give Tiffany a disapproving and haughty expression, which goes along with her snooty personality. Her dark red lips are pursed, and she wears pink blush on her cheeks. Her arms are colored so that she seems to be wearing long, pink or red gloves. She also seems to be wearing fishnet stockings. In general, Tiffany's appearance may be inspired by
Film noir
, however fishnet stockings are also popular in goth and punk fashion.
Personality
Below is a brief description of the snooty personality. For more information, click here.
Tiffany has a
snooty
personality, which means she will appear arrogant and snobbish towards the
player
and other villagers. She finds appearance important, and will get angry or upset if someone criticizes her sense of style or fitness. Her attitude towards the player will eventually change,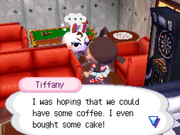 as she begins to warm up to them, but she will still retain some arrogance and subtle rudeness. She may not get on with
jock
and
lazy
villagers, due to their lifestyles
jock
villagers unintentionally criticizing other villagers appearances and lazy villagers having a strong interest in food or relaxing, both of which will make her uncomfortable, angry, upset and disgusted. when in conversation. She will upset
peppy
and
normal
villagers, usually by creating gossip about them and criticizing even the smallest of flaws. She will get along with
cranky
and other
snooty
villagers, since they are somewhat rude to younger villagers.
House
Tiffany's house in Animal Forest e+ is the same as T-Bone's, with the difference being the stone wall and birch flooring. In Animal Forest e+, she has K.K. Rock playing on her Phonograph/Gramophone.
In Wild World and City Folk, Tiffany's house is modern themed, mixed with many other types of furnishings. In City Folk, she has the modern bed, widescreen TV, classic table, a few red armchairs, red sofa, dartboard, and billiard table. She has the Concrete Wall and Red Tile. Her song is K.K. Rock that she plays on her Retro Stereo. 
amiibo Card
amiibo Card

Back

#030 Tiffany

| | |
| --- | --- |
| Type | Rabbit |
| Star sign | Capricorn |
| Birthday | 1/9 |
| Roll value | 5 |
| Hand sign | Rock |
| Request | A gorgeous celebrity home |
Rabbits
•
•
•
•
•
•
•
•
•
•
•
•
•
•
•
•
•
•
•
•
Community content is available under
CC-BY-SA
unless otherwise noted.