Tiger beetle
ハンミョウ Hanmyou

| | | | | | | |
| --- | --- | --- | --- | --- | --- | --- |
| AF | AF+ | AC | e+ | WW | CF | NL |
| – | – | – | – | – | – | #45 |

Location
Price
On the ground
1,500 Bells
Size
Available in rain
18mm
Yes
Time of year
Time of day
March to October
8am-11pm
Scientific name
Cicindela japonica
Family
Carabidae- Ground Beetles
Appearances
NL
Rarity
Uncommon (★★★)
Regional names
Cicindèle
Sandlaufkäfer

Escarabajo tigre
Cicindela
"I caught a tiger beetle! Who was really hunting whom?" —New Leaf
The tiger beetle (ハンミョウ, Hanmyou?) is a new addition to New Leaf. It is a skittish ground-dwelling Bug. It is slow moving at first but speeds up when approached carelessly. If ran past or if the net is swung in its vicinity it will immediately flee and disappear.
Donation to the museum
In New Leaf
An information board in the bug exhibit in the museum lists information about this bug.
"Tiger Beetles are known for their aggressive habits and fast running speed. Their bodies are rather colorful and reflect the sunshine, giving them a shimmery appearance. Tiger-Beetle larvae live in cylindrical burrows and capture insects that wander past with their mandibles."
Encyclopedia information
Bug

Encyclopedia Information

"I caught a tiger beetle! Who was really hunting whom?"

Size
19.6 mm
Time
Morning-Evening
Season
Spring-Summer
Gallery
Further information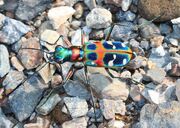 The tiger beetle, true to its namesake, is a quick and aggressive hunter, with some species reaching speeds of up to nine kilometers (or about five and a half miles) per hour. The tiger beetle is so fast that when running it temporarily loses its vision--its eyes simply cannot register imagery at that speed, so the tiger beetle is forced to run in zig-zags to keep itself aware of its surroundings.
Community content is available under
CC-BY-SA
unless otherwise noted.