New Pokemon Games - The Loop
Play Sound
This article requires clean-up to meet the quality standards of the Animal Crossing Wiki.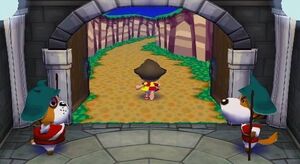 The town gate (also known as the main gate in Wild World) is a building in Wild World and City Folk. which allows the players to host guests or visit other towns, similar to the train station from Animal Crossing and New Leaf. The building replaces both the Train Station and the police station from the original Animal Crossing and New Leaf, since both Booker and Copper are guards at the gate. The town flag is displayed outside of the gate; it can be changed by speaking to Booker.
Gate styles
In City Folk, the gate style is decided at random when the town is created. The 3 different styles are:
Wood style
Brick style
Stone style
Some players reset the game in order to get the desired gate style. Despite the different exterior styles, the interior will always have the same look no matter what.
In Wild World, there are also 3 different styles for the main gate, as pictured below.
| | | |
| --- | --- | --- |
| | | |
| Wood style | Palace style | Castle style |
| | | |
| One possible gate in Wild World | Another Wild World main gate | Another Wild World main gate |
Nintendo WFC
On May 20th, 2014, Nintendo shut down all online multiplayer services for all Wild World and City Folk players. As a result, players no longer have the ability to connect with other players and visit each other's towns, leaving the town gate only available for Booker's services, and local wireless in Wild World.
Some homebrew modifications for City Folk exist allowing players with a modded Wii console to connect to a third-party server and continue to play City Folk online.
Interior
When entering the town gate, Booker and Copper will be guarding and keeping the town safe. While they do so, the player has one of the many options they may choose to speak about when talking upon either Booker or Copper.
Booker
What's new
Lost and found
Change flag
Copper
Open gate
Leave town
Friend code