To see my Edit Count, click here.
Anteater99

– Me and my friends have alot of private jokes. However, most of them are secrets about me when I did something stupid..




TALK

 

– 12:22, December 5, 2010 (UTC)

Hello! Welcome to my page! (I wrote the previous sentence only for super ultra dumb people). I hope you find my page interesting and funny. But if you don't you have to a). Get a sense of humor, or b). Get your eyes checked to make sure you don't need glasses. Well, I'm done welcoming you, so SCROLL DOWN ALREADY!
About Me
What's up? I'm Anteater99. I have Animal Crossing: Wild World and Animal Crossing: City Folk. I also have the Animal Crossing: City Folk official guide and poster! I became a rollback on August 7th, 2010. I became an admin on December 7th, 2010!!
LOL
These are some funny edits I have had to rollback on the Wiki; not all of them are spam. Some are just dumb(Yes yes I am copying SA).
A Dizzy... fanclub? (Look in the Personality section)
A Merry obsession and "Boys are stinky" issues (Personality)
Nate and Teddy are TOTALLY BROS (Personality)
FAIL FAIL EPIC FAIL ON THE LINKZ (look all over the page)
Nicknames
I have alot of nicknames on this site, just so people don't have to type my full name on blogs.
Nicknames:
Anteater (Probably the most prefered one, but it's kinda long to type, so yah)
A99 (This one is the most common.)
Ant (REALLY weird. I've only been called this once or twice, and I don't really like it.)
Eater (Never been called it, never want to be. )
Villagers
My favorite villager is Tangy (she is so darn cute!!!). I also love the superheros, Kid Cat, Big Top, and Agent S. Rasher kinda freaks me out. He was in my town once and *shudders* he was creepy, mean, ugly, and had a cowskin bloody rug! In my town, my favorite villager EVER was Blaire. I loooooved her!!! I have Pecan in my town now, who is exactly like Blaire. I want her picture soooo badly!!!!
Fish
My favorite fish is the ocean sunfish. I like them becuse once I went on a whale-watching trip and I saw one of these adorable creatures. I also like the coelacanth, the gar, the hammerhead shark, the dorado, and the tuna. I think sea bass are really ugly.
Bugs
My favoritebug is the birdwing butterfly. I also like the agrias butterfly and the peacock. I don't like any of the cicadas; they make too much noise! I don't even try to catch them, I just scare them away.
Gyroids
I love collecting these little dudes! In my house I have: the almost complete lullaboid family (they sound so pretty!) and the tall droploid one. Rhonda in my town has the one lullaboid that I need, so I NEED her to sell it to me!

Funville
Click here to enter Funville, my town for Wild World!
Funville ROCKS!!!

Ravioli
Come visit Ravioli, my SECOND town for Wild World!

Pages I Created
I don't have so many yet, but I'm working on it!!
1. Roman Candle
2. Lamp Post
Pictures I Uploaded
I'm working on it, but I can't find many pictures to upload. I uploaded a frog picture too, but for some reason it won't come up on my laptop when I try to post it here. Here is a link. Scroll down to the bottom of the page. It should be in the "Further Information" section.
Iggy rocks! He's my fav guy in New Super Mario Bros. Wii.----->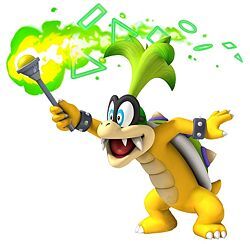 My Deepest Darkest Secrets
Wait.... never mind!!!!
My Favorite Pages
Polls

Thanks for doing the polls... I will be adding more later!
==
Sign and Comment Below!
Please leave comments and signatures below...that is all. Anteater99

Luv your page! Athena-Fleur Kim Nguyen 02:01, December 22, 2010 (UTC)Athena-Fleur Kim NguyenAthena-Fleur Kim Nguyen 02:01, December 22, 2010 (UTC)
Hi......you want a twin, great another person just like you!!!!:)ilovesockmonkeys 19:27, July 19, 2010 (UTC)
Hello! It's me! Well....we're not friends yet actually....um....yeah.....Minifig-me 01:01, July 23, 2010 (UTC)
Sailor sofia

– BEHOLD THE EPIC! THE EPIC!!!




TALK

 

– Look around the screen, what do you see? THE TIME!

I take up room also!SO HA! THEIR SUPERALPACA! Anyways, i hope we can be friends!
Dragonfree97

– MOLA MOLA MOLA MOLA MOLA




TALK

 

– 13:03, August 1, 2010 (UTC)

Hello.
Come post on my blog! AAA3 02:20, July 31, 2010 (UTC)
Thanks for the welcome! --Killer Axe
This where u sign? If so this is for signin meh page! NintendoLover 21:22, August 5, 2010 (UTC)
I have yet to get a signature, but I'll get one soon! ~~Skunkur~~
Hi! I'm Sundaethekitten 21:51, September 6, 2010 (UTC)
Hi! sign my page please! AAA3 00:52, September 11, 2010 (UTC)
AmazingLink

– You come back now, OK? - Mabel




TALK

 

– 21:21, September 8, 2010 (UTC)

Alright I will sign...
Hi! Remember me Pandastripe? (Call me panda) I like Dovepaw, Cinderheart, and lionblaze Pandastripe Is the P in Panda:) 21:33, September 10, 2010 (UTC)
Hello sis!!!! Jamiejamjam 00:03, September 11, 2010 (UTC)
Hello sister! Taryn731 :) 00:05, September 11, 2010 (UTC)
Hi!!!ilovecandy 18:55, September 11, 2010 (UTC)
Thanks for nominating ACF12 and I for rollback!! AgentCarmen12 on the case 21:20, September 12, 2010 (UTC)
Thanks for nomination! AnimalCrossingFan12 23:00, September 15, 2010 (UTC)
POO! I love your page!!!!!!!!!!!!!!!!!!!!!!!!!!!!!!!!!!!!!!!!!!!!!!!!!!!!!!!!!!!!!!!!!!!!!!:)
impressive page, i`l sign as soon as i get a signature. im new, theninwii 21:19, september 27, 2010 (UTC+01:00)
Astid

– Tripping...Tripping!!!




TALK

 

– 11:22 October 09, 2010

You thought I would never show up!!! But I did. And don't forget to sign My page!! You don't have to. BUT I SIGNED!!! And that's the good thing.
Humourous-ness-ness (yes....ness-ness...) :P --
ZilenserzWhat? I like ducks...
Thanks for the welcome! *Happychickenvermin!!! 03:46, December 31, 2010 (UTC)
This page is cool, and so are you! Yay!! ~~Embeecherry~~ Max Hunger Mode!
Credits
Most of the stuff on this page I copied from other users. To see the credits, click here.
Community content is available under
CC-BY-SA
unless otherwise noted.