𝕊ℙ𝕃𝔸𝕋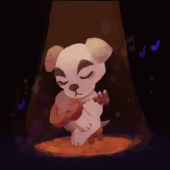 "Hakuna matata~"

"Yes, I exist. Yes, I'm sad about that too."


About Me
Hello, my name is Crystal, and I'm a rollbacker/patroller here! My pronouns are they/them. I joined Fandom on April 28th, 2020, and got promoted to rollbacker/patroller on April 13th, 2021.
Animal Crossing Info
The only Animal Crossing game I have played is Animal Crossing New Horizons. I got Animal Crossing New Horizons on August 7th, 2020, and have played it for over 350 hours. My favorite villager is Apollo, and my favorite special character is K.K. Slider.
Nookazon: KKSlider729
My favorite K.K. Slider songs (in order)
K.K. Condor
K.K. Synth
Welcome Horizons
Marine Song 2001
Profile pictures
Signatures
Hello! ℂ𝕣𝕪𝕤𝕥𝕒𝕝 (𝕊𝕒𝕟𝕚𝕥𝕪 𝕘𝕠 𝕊ℙ𝕃𝔸𝕋)

13:57, 31 January 2021 (UTC)
awe this userpage looks really aesthetic! nice job! -Hopewish a dream is a wish your heart makes 20:47, September 11, 2020 (UTC)
At the beginning we were not the best of friends but now we slowly started to become friends! Frenz! DebSherb (talk) 20:48, September 11, 2020 (UTC)
Salut from the Epicgamer7492 - Epicgamer7492 13:52, September 11, 2020 (PDT)
Hey! You seem to be a really nice person! I'm glad that we have another super sweet person on this wiki! I hope we can become good friends sometime soon! -NickTheBob 21:02, September 16, 2020 (UTC)
Thanks for signing my profile! You seem like a nice person! | | ~The legendary cube: TimeCube Message Me! 23:26, September 19, 2020 (EST)
nice -Kai♡

owo what's this
ty for wishing me a happy belated birthday, you seem really nice! i hope we can be friends! -

Marcus :D 17:15, September 20, 2020 (UTC)
Hello! Thanks for editing my page :) -Korasant
hihi ~ Trustfuls heir to the throne 15:59, September 25, 2020 (UTC)
tysm for helping with my profile! Can't tag myself! -cruisin
lol is it bad I'm jealous about you having more signatures than me - A piece of chocolate cake (talk) 10:03, 16 December 2020 (UTC)
Hey ♥︎𝑹𝒊𝒗𝒆𝒓𝒂♡︎, your favorite enby (talk) 14:49, September 28, 2020 (UTC)
*finger guns* Bright uwu Cats are murder machines

hey gamer B))- KoalaMarijoeana (talk) 20:11, 8 October 2020 (UTC) October 8, 2020, 4:11 (EST)
Hey look I know how to sign now! Cake (Message Wall)
heeeeeeeeeeeeeeeeeeeeeeeeeeeeeeeeeeeeeeeeeeeeeeeeeeeeeeeeeeeeeey - Whars - Why is this red??! - 13:55, October 14, 2020 (PDT)
PHROG

-Kalina Message me!
October 19, 2020 19:41 (CET)
hello i'm here to sign again to tell you to UPDATE YOUR COFFEE STATUS | ~The legendary cube: TimeCube Message Me! 12:48, 20 October 2020 (UTC)
Hello! Tysm for being the first person to sign my wall and being so kind to me! Have a nice day! :) User:Raymond ACNH Official
TA NOLA ALBERT EINSTIEN? ~ Tampy | hm | 17:50, 28 October 2020 (PDT)
Don't know how I didn't sign this earlier! Miatheblackcat
- Gemini ~ here just here
Hiii!!! thanks for signing my page!!! Kitty (talk) 16:14, 6 December 2020 (UTC)
a - LilyLunar | Message Wall (hihi)
Hello! -Matías Berrios Message me!
"Being random is potato" - someone on google - Bluestar<3 It's a beautiful, delightful day And I'm feeling a-okay
Hi ☺ •『αηɢıє』• Message me!
ello ~
WNDX i stole this base from hopewish
Bruh I'm here now :/ - PearlT Memes™
I love your profile picture! Jennifer Message me!
Honestly idk who i signed anymore ~Ako Never give up your dreams~

Hi!! I hope while writing this I didn't mess up your profile or anything.. - Cocoahbeans (talk) 00:10, 28 March 2021 (UTC)

hey -lee ♪ then raindrops fell from the sky 03:46, 31 March 2021 (UTC)
henlo hooman ~ ℑ𝔳𝔶𝔇𝔯𝔞𝔴𝔰 | 𝔐𝔢𝔰𝔰𝔞𝔤𝔢 𝔚𝔞𝔩𝔩! 𝔴𝔞𝔫𝔱 𝔡𝔬𝔫𝔲𝔱𝔰? :>


heyo darkviles ✭ message wall

And I thought Kalina had a lot of signatures ~𝕊𝕥𝕣𝕒𝕨𝕓𝕖𝕣𝕣𝕪 aka your local joocy phat strawberri 🍓
hakuna matata, what a wonderful phrase~ Sand Underman |Message Wall (Woofff)
hoi 1941749𝓰 | 𝓜𝓮𝓼𝓼𝓪𝓰𝓮 𝓦𝓪𝓵𝓵!

Userboxes
List of Games I Have Played
DSi XL Games
The Legend of Zelda: Phantom Hourglass
Dungeon Explorer: Warriors of Ancient Arts
Spectrobes: Beyond the Portals
Naruto: Path of the Ninja
Dragon Quest VI: Realms of Revelation
Dragon Quest IX: Sentinels of the Starry Skies
YU-GI-OH 5DS: Stardust Accelerator World Champion 2009
YU-GI-OH GX: Spirit Caller
LEGO: Harry Potter Years 1-4
LEGO: Harry Potter Years 5-8
LEGO: Indiana Jones 2
LEGO Battles
Super Mario 64 DS
Pokémon Soul Silver
Pokémon Pearl
Pokémon Black 2
Nintendo Switch Lite Games
Pokémon Sword
Mario & Sonic at the Olympic Games: Tokyo 2020
Super Smash Bros Ultimate
Katamari Damacy Reroll
Super Kirby Clash
Kirby Star Allies
Animal Crossing New Horizons
Paper Mario and the Origami King
Minecraft
Pokémon Cafe Mix
Pokémon Quest
Clubhouse Games: 51 Worldwide Classics
Stardew Valley
Splatoon 2
Pokémon: Let's Go Pikachu
Ninjala
Among Us
Community content is available under
CC-BY-SA
unless otherwise noted.