The official update history for New Horizons can be found here.
Past versions
1.0.0
The version of the game on physical cartridges. Contains a complete, playable version of the game, minus any additions, changes, and fixes included in any subsequent versions.
1.1.0
Released on March 19th, 2020, one day before the launch of the game.
Added Bunny Day and Zipper T. Bunny
Item names now use Title Case instead of all-lowercase.
Added NookLink features. The "Save Data settings" on the title screen was replaced with the generic label "Settings".
All players who downloaded the update receive a Nintendo Switch furniture item in-game. The player also received an ACNH Nintendo Switch, if they were playing on one.
1.1.1
Released on March 26th, 2020.
1.1.1a
After being announced during a Nintendo Direct Mini on March 26th, 2020, the update was unlocked on April 1st, 2020.
1.1.2
Released on April 2nd, 2020.
1.1.3
Released on April 3rd, 2020.
1.1.4
Released on April 6th, 2020.
Fixed an issue where Flick would give a different model on the next day when given three Scarab beetles for a commission.
Readjusted frequency of Bunny Day eggs prior to April 11th, 2020.[3]
1.2.0 - Earth Day Update
After being teased during the Nintendo Direct Mini on March 26th, 2020, this update was officially announced with a trailer uploaded on April 21st. The update was released on April 23rd, 2020.[4]
Added Leif as a traveling merchant.

Added bushes, sold by Leif.
Leif also sells flower seeds that aren't usually for sale in the local Nook's Cranny.

Added Redd
Museum expansion

Added an art gallery. Requires donating at least one genuine work of art to Blathers before it appears.

Upcoming events
Interest rates for the ABD were reduced from 0.5% to 0.05%.
Nook Inc. shirts based on the ones Isabelle and Timmy and Tommy wear were made redeemable via Nook Miles.
Players who downloaded this update received a world map from Nintendo and a bell-bag rug from Nook Bank.
The 'switch' item was renamed to 'light switch'.
Minor typos in dialogue were fixed.
This update also reworked the bug spawning algorithm in the game. Spawn rates were unified for all insects across all months instead of independent spawn percentages. For example, moths were a spawn rate of 25 during May-Feb, in March they were more common at a rate of 37, and less common in April at a rate of 22. As of 1.2 every month has a spawn rate of 25. In addition, the spawn rate of bugs was modified. Generally, the more valuable bugs were decreased and the less valuable were increased. This affects both the player's island and mystery tours.
Decreased bug appearance rates:
Peacock Butterfly down from 30% to 5%
Emperor Butterfly & Great Purple Emperor Butterfly both down from 10% to 5%
Atlas Moth down from 9%-10% to 5%
Banded Dragonfly down from 10% to 7%
Scarab Beetle down from 5% to 3%
Giant Stag down from 10% to 5%
Rainbow Stag down from 10% to 7%
Tarantula and Scorpion both down from 3%-6% to 2%
Increased bug appearance rates:
Stinkbug up from 20% to 40%
Tiger Beetle up from 9%-10% to 15%
Horned Dynastid up from 30% to 35%
Cherry-Blossom Petals (which use bug spawn rate) up from 135% to 150%
This update removed 2 Mystery Island Tours and readjusted the encounter rates for the remaining islands. The island rates that were changed appear to discourage bell income gains.
Removed mystery tour islands:
Big Fish/Hybrid Island
Hybrid Flower Island
Increased mystery tour island appearance rates:
Short River up from 9% to 9.68%
Short River and Pond up from 9% to 9.68%
Spiral River up from 9% to 9.68%
Fidget Spinner up from 9% to 9.68%
Sister Fruit up from 9% to 10%
Curly River up from 5% to 8%
Falls up from 5% to 10%
Decreased mystery tour island appearance rates:
Mountain down from 9% to 8%
Scorpion/Money Rock down from 2% to 1%
Rugged Tree down from 2% to 1.5%
Big Fish (formally Big Fish 2) down from 3% to 2%
Trash down from 5% to 1%
Finned Fish down from 1% to 0.5%
Gold Rock/Scorpion down from 1% to 0.3%
1.2.1
Released on May 21st, 2020.
Addressed issues to further ensure an enjoyable gaming experience (no new features, only bug fixes; fixes item duplication glitch)
Unlocked from June 1st, 2020 onward:
Wilbur gains the ability to buy items from the player and send items to the player's house storage while the player is visiting Harv's Island. Items sold to Wilbur will only return 80% of their sell value, like the shipping box outside Nook's Cranny.
1.3.0 - Summer Update (Wave 1)
Released on July 3rd, 2020.
Added diving and deep-sea creatures
Added Pascal, from whom DIY recipes for the Mermaid series or pearls can be received once per day in exchange for a scallop through diving.
Added Gullivarrr, from whom Pirate-themed items can be obtained. He will ask that the player find his communicator by diving.
Includes a free snorkel mask accessory for downloading the update
The special characters Leif, Saharah, and Kicks are no longer guaranteed to visit each week, ensuring a more even spread of all special character visits[5]
K.K. Slider now performs on Sundays when the plaza hosts an event on Saturday, allowing special visitors to appear on all weekdays.
Saharah has received changes to her shopping dialog, allowing the player to continue the conversation after buying an item.

The following items had their names changed:
Cake Dress is now Wedding Dress
Writing Chair is now Study Chair
Writing Desk is now Study Desk
Writing Poster is now Study Poster
Bug fixes:
Waterfall hop, multiplayer out of bounds & camera UI glitches were fixed.
1.3.1
Released on July 10th, 2020.[6]
Bug fixes:
Zen bridge obstruction glitch
Wet suit not being available for sale in Nook's Cranny
Hermit crabs appearing in odd places
Dialogue bubbles appearing for a split second after speaking to villagers
1.4.0 - Summer Update (Wave 2)
Released on July 30th, 2020.
General updates:
A new seasonal event, Fireworks Shows, has been added.
New limited-time seasonal items have been added to Nook Shopping.
A new feature was added to the NookPhone Camera app, allowing the player to turn off the guide information by pressing in the R Stick.
The "funny glasses" item now matches up with player skin color variations.
Players are given the "fireworks-show wall" wallpaper as a gift for downloading the update.
The following items have been added:

Blue Balloon
Red Balloon
Yellow Balloon
Green Balloon
Pink Balloon
Bubble Blower
Red Sparkler
Blue Sparkler
Fountain Firework
Used Fountain Firework
Bulb Bopper
Flower Bopper
Heart Bopper
Star Bopper
King Tut Mask
Online connectivity features:
A new feature allows the player to sleep in a bed and meet Luna via dreaming. They can upload a dream of their island via the internet or visit other uploaded dream islands. Once Luna is available, she will mail the player the "Luna's bed" item.
New features have been added to the Custom Designs Portal. The player can now search by design name or type. The player can now create a list of favorite creators.
A new feature has been added for backing up save data to Nintendo's servers via the internet. The player can use backed up save data with the island backup restoration service if their Nintendo Switch system is lost or broken.

The player must be a member of Nintendo Switch Online and enable backups within Animal Crossing: New Horizons to use this new feature.
Save data can't be restored at a customer's discretionary timing. If the player's system is broken, they must contact Nintendo Support to start a repair request. If they have lost their system, they must contact Nintendo Support.
This feature doesn't allow save data (island data) to be transferred to a different system. A save data transfer feature within 2020 is planned. Information on the feature and timing will be announced at a future time.
Fixed issues:
Other adjustments were made to improve the game play experience.
1.4.1
Released on August 6, 2020.
Fixed an issue where trees could mature and contain things other than the normal fruit, etc.
Fixed an issue where shining soil disappears after returning to their own island after a dream and buried Bells appear in that location instead.
Fixed an issue where the player swings their shovel through the air when attempting to hit a rock placed at a certain location.
Texture and icon for the Sumo Ring have been removed, making the flooring appear glitched when placed in a house and invisible in the player's storage.
1.5.0 - Fall Update
Released on September 30, 2020.
A new event, Halloween, was added with Jack being introduced as the host. The event takes place on October 31 from 5 PM to 12 AM.
Candy, which can be purchased from Nook's Cranny in October and given to villagers on Halloween, was added.
Pumpkins can now be grown, which can be used for DIY recipes. There are four different types and pumpkin starts can be purchased from Nook's Cranny or Leif.
Four new eye and skin colors were added.
Two Reactions, Haunt and Scare, were also added.
A Ring Con furniture item was given to the player upon downloading the update.
Players are now able to view a list of dreams they have previously visited.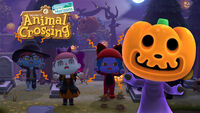 1.5.1
Released on October 8, 2020
Fixed an issue where some title keywords obtained via Nook Miles wouldn't appear within the Passport.
Fixed an issue where certain messages would display in English for users playing in French, Spanish, German, Italian, Dutch, or Russian.
Fixed an issue where animal residents would talk about pumpkins when given a bamboo shoot.
Fixed an issue where it was no longer possible to jump over a river based on the location of certain furniture.
1.6.0 - Winter Update
Two seasonal events made their addition in this update: Turkey Day and Toy Day
On Turkey Day, players can obtain and redeem the Cozy Turkey Day DIY from Franklin for the following items:
Throughout December, players can obtain the following items at Nook's Cranny in celebration of Toy Day:
During Toy Day, the player can receive the following items from Jingle:
The player can redeem the

Hip Reaction Collection

to obtain nine new reaction:

Sit Down, Wave Goodbye, Take a Picture, Sniff Sniff, Work Out, Yoga, Here You Go, Excited, and Ta-da.

Players are now able to visit random dream destinations by selecting the "Surprise Me" option.
Six new hairstyles were added and can be obtained using the

Top 6 Stylish Hairstyles

.
The player can now ask Tom Nook to expand their home storage from 1,600 to 2,400 items was added.
Support for Save Data Transfer, which allows island save data or a single player's save data to be transferred to another Nintendo Switch, was added.
More items were made available from Nook Shopping. These include:
Three additional DIY recipes that use seasonal materials were added:
Players will receive the Yule log in their mailbox as part of the update.
The Pocket Camp phone case was added as part of the Animal Crossing: Pocket Camp collaboration.
The NookLink mobile app will allow players to view their catalog.
Other items added include:
Other adjustments and corrections in order to improve the game play experience.
1.7.0
A new holiday, Festivale, has been added, as well as the special character Pavé who hosts the event.
4 new Reactions were added: Feelin' It, Let's Go, Viva, and Confetti.
New seasonal items have been added for Setsubun (Bean Throwing Festival), Valentine's Day, Groundhog Day, and the Super Bowl.
Fixed an issue preventing players from receiving the mermaid fence recipe from Pascal.
Other adjustments and corrections were made to improve the game play experience.
The player is given a pair of Maracas as a gift for downloading the update.
The following items have been added:

Lucky Money

Feather

Sebaetdon

Viva Festivale Reaction Set
1.8.0 - Super Mario 35th Anniversary Event
Super Mario items will be available in Nook Shopping on March 1, 2021. These items can't be obtained prior to the official release date.
3 new events with seasonal items will be added alongside the update and can be obtained from Nook Shopping.
The following 49 items have been added:
1.9.0
In addition, the Custom Designs Portal was revamped. The Custom Design Pro Editor+ is a new feature accessible from the player's Nookphone. The extension allows 3 new items to be customized including fans, umbrellas, and standees. It's available at Resident Services for 2,000 Nook Miles along with the portal for 300 miles. An additional 50 spaces will be added to both Pro and regular designs.
New items inspired by Bunny Day are added and available for purchase at Nook's Cranny.
4 new seasonal events are added, along with their respective items which can be obtained through Nook Shopping.
There is an update for Nooklink along with a new app that allows players to share their islands with others.
The following items have been added:

Dance Shoes

Slip Dress

Sequin Dress

Elegant Masquerade
1.10.0
Source: TCRF
May Day, International Museum Day and a Wedding Season have been enabled; the 2020 events are disabled.
A second maze island for May Day is accessible; this one is prioritized for players who already completed the 2020 event, while those who missed out see the original island prioritized. Completing the second island rewards the player with Rover's photo.
International Museum Day now features stamps and a plaque for the art exhibit.
The Shiromuku, Tsunokakushi, and White Hakama with Crest clothing items are all purchasable from Able Sisters during Wedding Season.
Multiple new Nook Shopping events are added:

The Carp Banner furniture item and the Newsprint Helmet clothing item can be purchased in celebration of Children's Day (April 28 to May 5).
The Double Gloucester Cheese furniture item can be purchased to commemorate the Cheese Rolling Festival (May 22 to May 31).
The Nuptial Bell, Nuptial Doorplate, Nuptial Ring Pillow, and Flower-Petal Basket furniture items can be purchased during Wedding Season throughout the month of June.
The Surichwi Tteok and Festival Zongzi furniture items can be purchased in celebration of the Dano Festival and Dragon Boat Festival, respectively (both June 5 to June 14).
The Ship Wheel Door Decoration furniture item can be purchased in celebration of Marine Day (July 8 to July 22).
The Phrygian Cap clothing item can be purchased in celebration of Le 14 juliet (July 10 to July 20).

In addition to the new Nook Shopping events, ones returning from 2020 are modified:

Mother's Day (May 1 to May 31) features the Carnations furniture item.
Father's Day (June 1 to June 30) features the Thank-You Dad Apron clothing item.
The Summer Solstice and Winter Solstice events now occur from June 15 to June 21 and from December 15 to December 21, respectively.
The Tanabata event now occurs from July 1 to July 7.
The Cowboy Festival event now occurs from July 15 to August 15.

Dream Towns can now be exited by pressing the minus button.
Fixes a glitch introduced in version 1.9.0 where traveling five or more days into the past rerolls the target week's NPCs every time.
The following items have been added:
1.11.0
The Fireworks Show returns for 2021. Some limited-time seasonal items and Halloween items are also added.
The following items have been added:

Eggplant cow

Handheld lantern

Marigold decoration

Melon cotton candy

Plain cotton candy

Ramune-soda cotton candy

Spooky treats basket

Spooky tree

Spooky trick lamp

Strawberry cotton candy
Current version
1.11.1
The following issues that occurred in Ver. 1.11.0 have been fixed:
Fixed an issue where the DIY Recipes app does not order DIYs correctly when prompting a "Obtained order" sort.
Fixed an issue where certain items in Harv's Island couldn't be displayed.
Fixed an issue where Nook's Cranny couldn't play a different music track 10 minutes before the shop closed.
Fixed an issue where clouds wouldn't appear in certain seasons.
Future versions
These versions have been announced officially, but they are yet to arrive in the future.
2.0.0
To be released on Nov. 5, 2021. This section left blank until a list of changes surfaces.
Notes
Versions can have an appended letter to their version number. These will only be applied if the player has an active internet connection while the player's date is synced with Nintendo Servers, and display alongside the version installed on the title screen (for example, 1.7.0 a).
These letters represent event triggers that apply for a limited time.
These aren't installed by the Nintendo Switch system software. Rather, they are automatically applied when the game is started via the conditions explained above. This means that the software info menu will show the version of the game without the letter.
These seem to stay on the screen after an event finishes and only go away once a new update gets released while there is no event active.
References