No Man's Sky Update - The Loop
Play Sound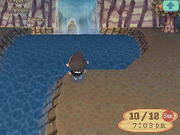 The waterfall is where the water from the river falls from the northern cliff. In Animal Crossing and City Folk, it is possible for there to be another waterfall elsewhere in the player's town. It will appear when the river meets the cliff in the center of town. The north waterfall is accompanied by the waterfall pond. Fish cannot be caught in the waterfall itself, but the waterfall pond is the only place where char and large char can be caught. In Wild World, there is sometimes a small rock in the center of the waterfall. It does not serve any purpose and is only there for decoration.
In New Leaf, there are two waterfalls: one where the river flows into town, and one where the river flows into the ocean. There can also be waterfalls on the east and west sides of town if the river flows horizontally.
In New Horizons, waterfalls can appear flowing over cliffs, along with waterscaping cliffs with the Island Designer app.
Waterfall pond
The waterfall pond is the lake around the highest waterfall. It is larger than the straight stretch of the river, and the size and shape differ from town to town. Pondskaters can be found here, but only in City Folk and New Leaf.
In New Leaf
In New Leaf, only three kinds of fish can spawn at the base of the ocean waterfall -- the Salmon, the Char and the the King Salmon.
Fish
Name
Image
Price
Location
Shadow size
Time
Jan
Feb
Mar
Apr
May
Jun
Jul
Aug
class ="unsortable" style="background-color:#d2b48c

" | Sep

class ="unsortable" style="background-color:#d2b48c

" | Oct

class ="unsortable" style="background-color:#d2b48c

" | Nov

Dec
Char
3,800
Waterfall
3
4 AM - 9 AM & 4 PM - 9 PM
-
-
✓
✓
✓
✓
-
-
✓
✓
✓
-
Salmon
700
River*
4
All day
-
-
-
-
-
-
-
-
✓
-
-
-
King salmon
1,800
Waterfall
6
All day
-
-
-
-
-
-
-
-
✓
-
-
-
Players often find these fish difficult to catch because of their infrequent spawn, and small area in which to catch them. However, there exists a method to cause fish to spawn in the waterfall pool much more quickly than would otherwise happen. The method consists of standing by the waterfall pool, then running to the far end of the beach, as far as possible, then running back again. If there is no fish in the pool, running again gives another chance to spawn them. If there is a fish, it can be easily caught by heading up the ramp to above the waterfall, where the rod bobber can be thrown down into the pool.
Gallery