The
Wii
[1]
also known as
Codename
Revolution
is
Nintendo's
fifth home gaming console, and was competing with the
Xbox 360
and the
PlayStation 3
in the seventh generation of video games. The console was first released in late 2006, and was proven to be a success. The main input for the console is the controller, called the Wii Remote which has motion and tilt sensitivity, and a plug for control extensions on the bottom. This console slightly resembles the NES. The console has an installment in the
Animal Crossing series
series, titled
City Folk
released on November 16
th
2008 (December 5
th
for PAL regions).
Controllers
The Wii has various methods of inputting commands like the Wii Remote (MotionPlus/Plus), Nunchuk, Classic Controller (PRO), and the GameCube (GCN) controller. Most games that have recently been released are supporting these functions by giving the player optional input method like Wii Remote turned on its side.
Special controllers have been released for this console, like the Wii Balance Board, primarily used for the best-selling Wii Fit. The Wii Wheel is a plastic shell that came with Mario Kart Wii that allows the wii remote to sit in comfortably and provide the player with a better gaming experience. The Wii Zapper came with Link's Crossbow Training and is primarily used for first-person shooters such as Resident Evil 4. The Wii MotionPlus, the latest controller at the time, was released in June 2009 and is included with Wii Sports Resort. The MotionPlus offered true 1:1 control.
Channels
Mii Channel
The Mii Channel is one of the preinstalled channels for the Wii. It is based on a Japanese game. It was released in North America on November 9, 2006, in Japan on December 2, 2006, in Australia on December 7, 2006, and in Europe on Decmber 8, 2006. On the Mii Channel, players can create Miis, virtual characters that can represent them on various games like, Wii Sports, Wi Fit +, and Wii Sports Resort. Another is City Folk, where players can get a Mii Mask at Shampoodle by selecting "Makeover." The first makeover is free, while any more after that cost 3,000 Bells.
Nintendo Channel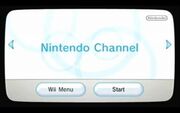 The Nintendo Channel is another channel for the Wii console. It gives the user updates on new games and videos. In the City Folk section there are videos to help keep track of the latest info.
On June 28, 2013, Nintendo terminated the WiiConnect24 service features globally.
Unfortunately on May 20, 2014, all Nintendo Wi-Fi access was terminated and no longer provides service for Nintendo DS(i) and Wii users.
Successor
At E3 on the date of June 7, 2011, Nintendo announced plans for another new Nintendo console named the "Wii U" that would later succeed the Wii. It is Nintendo's sixth home console, with a new, more streamlined appearance, 1080p HD Graphics (a first for Nintendo consoles), and even a new controller with an embedded touchscreen, which allows the player to continue a gaming session by displaying the game on the touchscreen if the television does not seem to provide display (a feature dubbed "Off TV Play" after its release). The Wii U is backwards-compatible with Wii games, but not GameCube games.
The
Wii U
was released in November 2012, beginning the eighth generation of video game consoles.
References
Community content is available under
CC-BY-SA
unless otherwise noted.