The windmill butterfly is a bug in Pocket Camp. It was intoduced in December 2020. Like the other bugs, it can be found at Sunburst Island.
Further information
Main article: Byasa polyeuctes on Wikipedia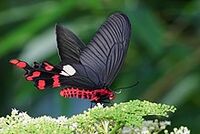 The common windmill, Byasa polyeuctes, is the most common member of the Byasa genus (Byasa), which includes tailed black swallowtail butterflies with white spots and red submarginal crescents.