This article requires clean-up to meet the quality standards of the Animal Crossing Wiki.
Please edit this page to improve it. Feel free to discuss this cleanup on the article's talk page.
Template:Feature
"Hippity-hoppity wish-wash-whoa!"
― Picture quote, Wild World
Zipper T. Bunny
ぴょんたろう Pyontarou
Gender
Male
Species
Unknown
Service
Bunny Day,
Egg series
Birthday
March 11th
Coffee
N/A
Appearances
CF, NL, HHD, PC
Regional names
Albin
Ohs
Coti Conejal
Ovidio
토빗
Zipper T. Bunny (ぴょんたろう, Pyontarou?), commonly shortened to Zipper, is a special character in City Folk and New Leaf. Zipper appears to be another animal dressed as a yellow Easter Bunny as we see by the zipper on his back. Zipper's true form (and whether or not there actually is one) is currently unknown canonically.
There is a zipper on the back of Zipper's costume which may be the source of Zipper's name. It is easily visible when seen from behind, which causes Zipper to turn around and comment saying to not to look at the zipper, as it "spoils the magic". 
Zipper appears as the holiday character for Bunny Day and was first introduced in City Folk alongside Pavé and Phineas.
Upon being approached, his theme will begin to play and Zipper will begin to dance. As the player leaves the Town Plaza the music and dancing fades and Zipper will sigh heavily. Zipper will ask the player to search for bunny eggs which are buried around town. Opening these, Zipper will say, it reveals a "surprise", but after constantly talking to Zipper without finding one, Zipper eventually will tell the player to look for bunny foil, which are also called prize tickets. Zipper will give the player Furniture from the Egg Series or Zipper's picture each time the player finds one bunny foil or grand prize ticket (respectively) inside an egg and gives it to Zipper.
During the event, villagers will usually speak of Zipper in a derogatory manner. Normal villagers appear to be scared of Zipper. It would appear Zipper is unhappy with the choice of uniform and job, by mentioning that Zipper wants a new job under their breath and will occasionally mention how uncomfortable it is under the suit - also, under their breath.
After the Welcome Amiibo update, when visiting Zipper's RV, the description will say, "Camping gives Zipper a chance to finally get out of that stuffy old costume and- er, we're being told in no uncertain terms that it is NOT a costume."
Theories
Warning: Theory starts here.

Tortimer
Many believe Zipper to be Tortimer, due to the name being "Zipper", as in the zipper on the bunny suit and "T", as in Tortimer. However, upon entering Town Hall, he is clearly seen in his usual spot. And that he sounds like a lazy villager.
Phyllis
Some believe Zipper to be Phyllis, due to the fact that Zipper also complains silently in a similar style to Phyllis. Zipper also has purple eyelids when blinking, which further supports this theory. However, Phyllis can be found in the Post Office during her usual evening shift or in The Roost before work.
Lyle
Others believe Zipper to be Lyle, due to both disliking their jobs and Lyle isn't seen at Nook's Homes on Easter. This is not the case in New Leaf, however.
Dr. Shrunk
Dr. Shrunk could be the one who dresses as Zipper T. Bunny, since in Animal Crossing: New Leaf if the player has built Club LOL then the player will know that every day Dr. Shrunk allows the player to collect character emotions. However, Dr. Shrunk is in the building as usual on Bunny Day after 12 pm.
amiibo Card
amiibo Card

Back

#316 Zipper

| | |
| --- | --- |
| Type | Special |
| Star sign | Pisces |
| Birthday | 3/11 |
| Roll value | 3 |
| Hand sign | Paper |
| Request | I'll leave it up to you! |
Gallery
City Folk
New Leaf
Trivia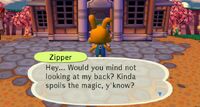 Zipper's mouth, costume or not, moves while talking.
Zipper will offer to sell a shovel if the player does not have one.
If the "you're weird" option is selected, Zipper will say under their breath that Zipper knows a certain reindeer and can tell Jingle "you've been extremely naughty this year."
Pete, Lyle and Phyllis are known to dislike their jobs in the series, often making remarks which are written in gray text to indicate speech muttered under their breath. However, like Tortimer, they can be seen doing their usual jobs.
It is also possible that the zipper is actually the overalls instead of a full costume.